Blacksmith's Helper + 2 dies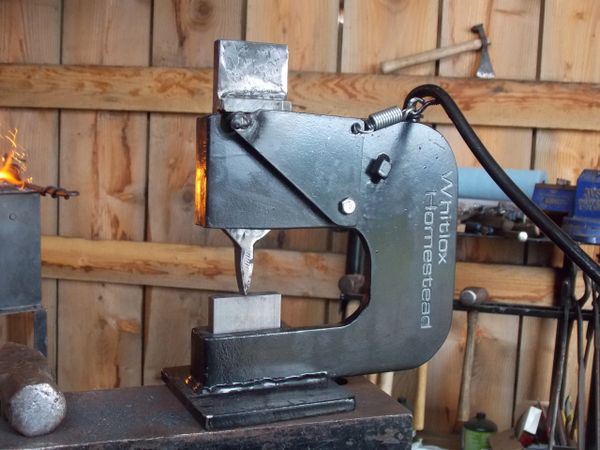 Blacksmith's Helper + 2 dies
Using the Whitlox Blacksmith's Helper is like having an extra pair of hands!
No more fumbling to open the jaws while your steel cools, hip activated lever raises the top tool. Our heavy duty guillotine tool makes chiseling, punching, or fullering an easy one-man job.
Price includes two dies (there is a surcharge if you choose hardened dies.) Also offered with all seven dies.
Please choose the diameter of hardy hole you would like and we will weld on a stake to custom fit your anvil. It can also be used in your vice.
C-frame of welded 3/8" steel construction with a painted black finish.
Die options include:
A) Three hole swage
B) Hot cut 4130 (hardened)
C) Punch 4130 (hardened)
D) Narrow (3/8") shoulder fuller
E) Wide (1/2") shoulder fuller
F) Chisel 4130 (hardened)
G) Blank with welded bar for the opening mechanism
Unless indicated, dies are made from mild steel and can be dressed with a grinder as they wear or distort. Remember to use the dies only on forging temperature steel, never cold, for best wear.
Reviews
Featured Products